This article is about the music video for the song "The Christmas Song", for the article about the song click here. The video was filmed in November 1999 on the 4th, with a quick scene of Aguilera when she was young opening her Christmas gifts. It was not released untill the 4th of November 2007 (8 years later).
Description
The video starts with white words saying,
"THE CHRISTMAS SONG 
chesnuts roasting
on an open fire",
waving in front of a black background while a female voice says "merry christmas". Then then the scene changes to a real video of a young Christina opening a gift and saying, "look what I got, mummy." She is wearing a white long-sleaved t-shirt with printing on the front. In the next scene she is singing into a microphone while wearing headphones and sitting down in some scenes but standing up in others, candles are used to light the room. She is wearing a red sweater and black pants. Ron Fair is playing the piano beside her. The scene often changes breifly to young Christina on Christmas day. In the last Scene she is blowing out candles and the screen fades to black.
Gallery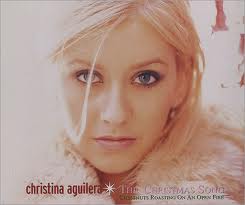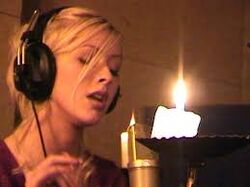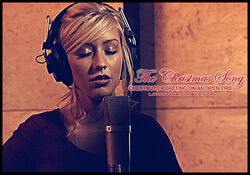 Sources
http://www.dailymotion.com/video/x1ora8_christina-aguilera-the-christmas-so_music
https://www.google.co.uk/search?q=christina+aguilera+the+christmas+song+music+video&source=lnms&tbm=isch&sa=X&ei=4pavUoefFqHH7AaSmgE&ved=0CAcQ_AUoAQ&biw=667&bih=614#q=christina+aguilera+chestnuts+roasting+on+an+open+fire+single&tbm=isch&facrc=_&imgdii=_&imgrc=V7yZFNvYlmiCGM%3A%3BvOZ7GfSVXsFsqM%3Bhttp%253A%252F%252F25.media.tumblr.com%252Ftumblr_lg8slbM3Gp1qbpbcho1_500.jpg%3Bhttp%253A%252F%252Flordxtina.tumblr.com%252Fpost%252F3161965921%252Fthe-christmas-song-chestnuts-roasting-on-an-open%3B500%3B350
https://www.google.co.uk/search?q=christina+aguilera+the+christmas+song+music+video&source=lnms&tbm=isch&sa=X&ei=4pavUoefFqHH7AaSmgE&ved=0CAcQ_AUoAQ&biw=667&bih=614#q=christina+aguilera+chestnuts+roasting+on+an+open+fire+MUSIC+VIDEO&tbm=isch&imgdii=_